Website Design and Support for Small Businesses

Convert referrals into customers
You expect your new website to look sharp and professional – that's a given. Not only do we design a website that is modern and attractive, but we carefully apply 16 select strategies to make it highly effective at its primary purpose: turning curious referrals into active prospects.
Get responsive, friendly service
You need your website to be accurate and up-to- date, and we can help! In addition to making front-end changes for you like updating words and pictures, we can handle all the back-end maintenance. Of course we also offer Professional Hosting backed by our Secure Site Guarantee: if your website is hacked, we'll fix it for free.
Capture value from existing customers
Google Starter: We'll help you build trust with prospects by helping you get more online reviews and keep your business listings up-to-date.
Social Media: We'll create a consistent presence for your business on Facebook, Instagram, and/or your Google Business Profile.
Relationship Builder: We'll keep you front-of-mind with past leads and customers by planning, writing, and designing your monthly e-newsletter.
Serving small businesses

across the U.S.A.
Headquartered in Fredericksburg, Virginia.
We're proud members of a community of local small businesses in Fredericksburg, Virginia and Milford, Connecticut.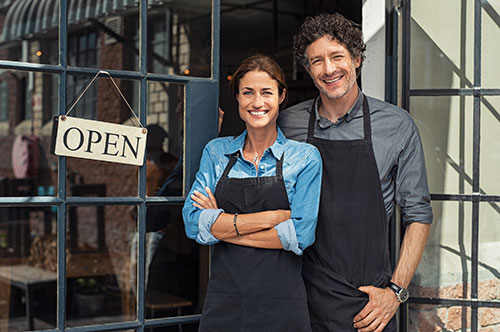 New Companies Who Need a Digital Presence
Starting a business is like entering whole new world. It's exciting, right? (It's a WOAH-load of work, right?) Are marketing, design, and coding skills you do not have time to master? We know – we've been there! Our experienced team will explain the whole process and take care of all the dirty work. We've even prepared an overview for you: Project Roadmap. We make it easy. What a relief, right?!
Office Managers Who Need Straightforward Solutions
Is the company website outdated? Frustrating? Embarrassing? Does the "website guy" never get back to you? Or worse, do you have to figure it out again yourself every time? We're here for you. Our team is big enough to be responsive and small enough to be YOUR partner. We deliver 4 hour response times and 2-day resolutions on most requests. Everything is about to get a whole lot easier!
Established Businesses Who Want To Stay Current
Above all, you just want your business to keep running smoothly. You need a website that supports what's already working, helps you capture leads, and doesn't waste your time nor your employees'. That's what we do. We design websites that leverage things you are already doing in your business. We follow a proven, time-responsible Project Roadmap. Then we provide responsive support so you can focus on your customers. You'll feel confident working with our team.
Could Your Website Be Better?
Find out what our website strategists have to say. We'll review your website and send you a custom video recording with our feedback, recommendations, and examples. You can watch it any time. And it's free – no obligation.
As a teenager, I was inspired by my aunt and uncle – self-starting, go-getter, small business owners – to pursue that same independence.
My fascination with technology developed well before that, in my early childhood. When I entered the workforce, that interest transitioned into a love for using technology to improve something. To solving real-world problems. Enter: Websites For Anything.
As the business grew, I transitioned again. My coach showed me that we could do better if we pushed beyond just building generic websites, and re-lit the flames of passion for small business. I decided to focus on helping people just like myself and my aunt and uncle: micro-business owners. So we created the Project Roadmap, developed our effective Relationship Website strategy, and we continue to grow!
Our Singular Focus – Creating Maximum Impact for Small Business Websites
Free Review
Does your website help you close business – or create missed opportunities? Our video review includes a comprehensive analysis with personalized recommendations to increase your site's effectiveness.
Free Design
Realize your website's full potential with a reimagined design! We create mockups that boost conversions, modernize your digital presence, and reflect the personality of your business.
Relationship Website Strategy
What does it take to connect with ideal prospects? Our tried-and-true website strategies help you maximize your business' referability, and create lifelong relationships with clients.
Unlimited Content Changes
No unresponsive developers or surprise charges here! Keep your site fresh and take tedious adjustments off your to-do list – our ongoing website maintenance includes unlimited updates to content.
"Website For Anything provided a very informational and accurate review of my website and discovered many holes left by my previous provider.

What is ideal is their commitment to provide a mock-up of their product before asking for anything back, unlike everyone else that ask for money before delivering their empty promises.

I leave the one star out for the suspense of what they are going to do!!!

Highly recommended.
Like"
– Jac&Mac Photography
"Websites for Anything is a fantastic company to work with. They really go the extra mile to make sure there clients, big and small, are happy. The staff is attentive and can be reached easily. In these days of "everything automated", it's nice to be able to talk to a real person who cares about your business."
– Michele Dibella
"My experience as a business owner creating a website from the ground up with the guidance of Phill, Josh, and Karla was a positive one. The investment into ensuring the website was personalized to our company and the ability to communicate easily during each step of the process was invaluable. I recommend WFA to anyone looking for a website built from the ground up or a refurbish of a current website. The formula used by Josh and his team establishes a solid framework for building a user friendly, attractive website experience. A special thanks to Karla – her responsiveness, professionalism, and kindness are second to none. I look forward to our continued professional partnership with WFA."
– Katie Davis
"Absolutely a pleasurable experience from the team at Websites for anything. They provided great information to help my business grow. Their support is unmatched. I highly recommend their service to all small business owners."
– Leo Damone
"We @ Common Sense Healing had a website review done by Websites For Anything. The review surprised and delighted us because Joseph sent a link in our email to a recorded review posted to YouTube! It was very cool watching it on our big Smart TV. The website review was professional, in-depth, and relevant. We appreciated the constructive criticism as well as the many times Joseph told us what was right about our current website. It felt very personal and individualized. All in all, it was a great experience. We are having Websites for Anything do a mock up of our website's home page next."
– Dawn Sharrocks
"Our old site was stagnant and it was hard to update or add new content. We worked closely with Josh and Kristin. They were able to sift through our thoughts and create a website that reflects Grass Roots 100%. We were hoping that the new website would increase our presence online. Our expectations were met and exceeded! Having Websites for Anything build us a new website turned out to be one of the best investments we have made in our 11 years of business."
– Cathy Lyon
"Recently, we decided it was time to give our website an overhaul! It has been the same for to many years and was very outdated. Websites for Anything took our vision and turned it into a website that we are proud to have represent Dupee Plumbing! I happily recommend Websites for Anything to everyone that needs a knowledgeable and dependable company to handle any of their website/hosting issues."
– Jeannie Dupee